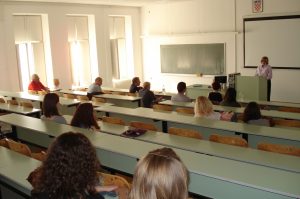 Public lecture by Barbara Cochran
On Monday, 23. 5. 2011. Croatian Sociological Association – Zadar Branch and Department of Sociology, University of Zadar have organized a public lecture given by Barbara Cochran "Women's Role In Media: Building Toward An Equitable Future". The lecture discussion was accompanied by John Cochran, journalist and editor of several USA TV networks on international relations topics.
Barbara Cochran, a news executive whose career includes top jobs in the broadcast, print and non-profit worlds, is the Curtis B. Hurley Chair in Public Affairs Journalism at the Missouri School of Journalism. Cochran is based in the School's bureau in Washington, D.C., where she has spent her entire career. She works with the School's faculty to teach and provide course content for students. Cochran is co-chair of the International Women's Media Foundation.